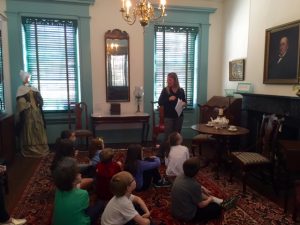 This spring, the Historical Society of Haddonfield will once again be hosting visits from elementary school students as part of the school curriculum on local history.
We're anticipating leading tours for ten classes of second-graders, and we'd love your help either as a lead docent or a helper.
Volunteers should be willing to commit to helping with at least two tours of Greenfield Hall in late April and May. The tours will be held from 9:30-11:30 am during the week, and are currently being scheduled with teachers. All volunteer docents are also required to attend a training session at Greenfield Hall on Thursday March 23 from 1-2:30 pm. If you'd like to volunteer but cannot attend training on the 23rd, please let us know.
If you're interested, please RSVP to Marsha Marshall at [email protected]. Thank you, and if you have any questions, please contact us at [email protected] or 856-429-7375.