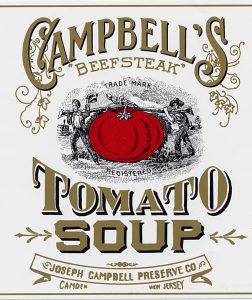 Join us on Wednesday March 22 at 6 pm for our annual Candlelight Dinner and General Membership Meeting at Tavistock Country Club.
This year's program will feature a presentation on "How the Campbell Soup Company Got Its Middle Name," by Corporate Archivist Sarah Rice.
Campbell's has been so important to South Jersey, and many Haddonfield residents have heard how local resident Dorcas Reilly led the team that created the recipe for the green bean casserole while working the Campbell's test kitchens. But did you know that soup was not a primary focus of the company when it was founded in 1869?
Sarah Price will explain how Dorrance family innovations in the production of condensed soup, marketing and advertising shaped the company in remarkable ways, as well as present a selection of artifacts from the history of the company. Price has served as corporate archivist for the company since 2014, and holds a master's degree in Museum Studies from George Washington University.
You can order your tickets online or send us the order form in the March 2017 Bulletin newsletter. You can also call the office at 856-429-7375 or stop by during our open hours: Mondays, Wednesdays and Fridays between 1-4 pm.
We look forward to seeing you at the dinner!