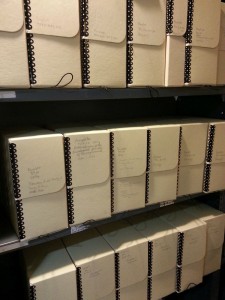 The Historical Society of Haddonfield Archives Center and Research Library collection is focused on the history, genealogies, family papers, church records, images and organizational records of Haddonfield and its immediate vicinity. Our print holdings include older reference books on the history of the area and of early Quakers in South Jersey, and we also have pamphlets on Haddonfield events and organizations, church records of Haddonfield up to 1900, early Bible and marriage records, and genealogies relating to local families.
The Archives Center and Research Library is currently working to improve digital access to existing catalogs and create new research tools. Please contact us at library@haddonfieldhistory.org to learn more about our holdings and to make a research appointment.
Read more about our collection management policies.
Learn more about how to donate your materials.
——————————————————-
Holdings
We have personal and family papers, as well as organizational records for groups both large and small (see below). Our Ledger Collection contains a variety of business records, organizational records, genealogies, scrapbooks, financial records, and other materials from the eighteenth, nineteenth, and twentieth centuries (see below). We hold cemetery surveys for the Haddonfield Methodist Cemetery, Haddonfield Baptist Cemetery, and Colestown Cemetery in Cherry Hill, as well as partial records for the Mt. Peace Cemetery in Lawnside. We have a large number of original recorded and unrecorded deeds, and various maps and atlases.
We also maintain vertical files with research information about Haddonfield buildings and properties, people, and other assorted subjects.
We have a collection of Borough directories from roughly 1884-1961, and Haddonfield high school yearbooks from roughly 1916-1992.
We have an extensive collection of photographs and postcards depicting Haddonfield and local individuals, as well as photographs collected by the editor of the Haddon Town Crier Herald newspaper.
We have recordings and transcriptions for a series of oral history interviews conducted by Tillie Clement and others and previously kept at the Haddonfield Public Library.
Please note that some of our collections are currently stored off-site. We recommend that you contact us at library@haddonfieldhistory.org before you visit in person to ensure the materials you seek will be available.
——————————————————-
Catalogs and Research Tools
Search / browse our archival collections in our new online catalog:
https://haddonfieldhistory.org/archives-center/archives-catalog
Search / browse our published holdings (i.e. books) in our growing online catalog: https://www.librarything.com/profile/HaddonfieldHistory.
Other in-progress inventories may be helpful research tools:
——————————————————-
Finding Aids
HSH Collection on the Gill Family, 1530-1996 (bulk 1800-1930), Collection #2016-005
Needlework Guild of America, Haddonfield branch, Records, 1893-1995 (bulk 1893-1976), Collection #1996-013
Willard Family Papers, 1830-1968 (bulk 1880-1935), Collection # 2003-003
While we continue to create finding aids that we can share online, and add more detail to our online catalog of archival collections, the following list  provides a sampling of our manuscript holdings for families / individuals and organizations / businesses / institutions. Please note that some of our collections are stored off-site; please contact us to learn more about these collections before visiting the library in person.
Manuscript Collections – Families / Individuals
Aiken, Joan L.
Allen, Rev. William, Jr.
Andress family
Bannister family
Bassett, Daniel
Blair family
Brigham family
Braddock, Charles S.
Browning, Joshua P.
Cane / Cain family
Capern family
Clement family
Collings family
Danenhower family
Day, Stephen Munson
DeCou family
Dunphey family
Ellis family
Engle family
Estaugh family
Evans family
Everett family
Fithian family
Ford family
Fox family
Gibbs family
Githens family
Glover family
Goldsmith family
Groves, Hannah Cutler
Haddon family
Harvey, Cyril Hingston
Hillman family
Hinchman family
Hopkins family
Kay family
Lyons family
Magoun, Mary Young
Middleton, Emma
Moore family
Nicholson family
Peale family
Potter family
Redman family
Reeves family
Reilly family
Rhoads family
Rhoads, Samuel Nicholson
Rossell, Marcia Amison
Rowand family
Rulon family
Searle, William A.
Snyder family
Stafford family
Stokes family
Stretch family
Tatem family
Trend family
Wallworth, Joseph Franklin
Wescott, Marion (pen name Marion Sturges-Jones)
Willard family
Williamson, Jack
Willits family
Wittwer family
Wood family
Manuscript Collections – Organizations / Businesses / Institutions
Here is a sampling of our manuscript collections of organizational, business, and institutional records. Please note that some of our collections are stored off-site; please contact us to learn more about these collections before visiting the library in person.
Citizens Association of Haddonfield
Crows Woods Nature Association
Daughters of 1812, Captain James Lawrence Chapter
Evesham Social Reading Circle
H.A.T.C.H. [Haddonfield Acts to Create Hadrosaurus foulkii]
Haddon Grange
Haddonfield Agassiz Association Chapter 342
Haddonfield Baptist Cemetery
Haddonfield Celebrations Association
Haddonfield Civic Association
Haddonfield Mothers & Teachers club
Haddonfield Natural Science Club
Haddonfield Parent Teacher Association
Haddonfield Sewing League
Haddonfield Sewing Society
Haddonfield Stamp Club
Historical Society of Haddonfield
Ladies of G. A. R. Hatch Circle #2
Mercer County Mutual Fire Insurance Co.
Mt. Peace Cemetery of Lawnside
Needlework Guild of America, Haddonfield Chapter
Parent Teacher Association of E. Haddon School
Parnassus Reading Club
Volunteer Police Reserve Association of Haddonfield
Copyright & Reproductions
Materials found on this web site and in the Archive and Research Library are governed by U.S. copyright law. Possessing a digital reproduction of the Archive and Research Library's collections does not constitute permission to publish or exhibit. Reproduction fees may apply and vary depending on whether a reproduction is for an individual, non-profit, or commercial institution and how it will be used (personal research, publication, exhibition, etc.). To request permission to reproduce materials, please contact the Historical Society's Archivist at library@haddonfieldhistory.org.