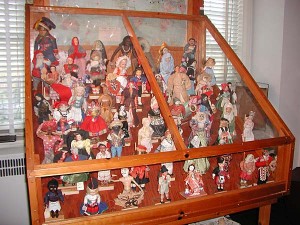 Over 800 dolls, examples of almost every type of doll, make up the Society's collection. Visitors will be able to enjoy them in the Doll Room on the second floor and in the third floor Gallery.
Displays in the Doll Room include antique dolls, such as the Greiners and Schoenhuts, a corncob doll, wax dolls and china head dolls. Almost three quarters of the collection was donated during the 1960's by a local collector, Cornelia Christopher. Her special childhood doll, a beautiful French import named Florence Ruth, is included in the display. Dolls are also brought out periodically from storage for special occasions: e.g., a group of Japanese dolls for Japan's Doll Day in March.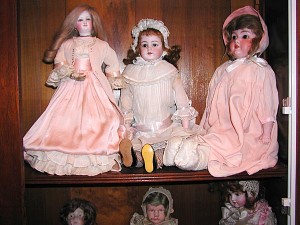 The Gallery houses the Global Village, the centerpiece of the foreign travel dolls created by Cornelia Christopher and Martha Goettlemann. On a map of the world above the exhibit, the country of origin for each of the 63 dolls is indicated by a star. In addition to the antique toys in the Gallery, a large electrified dollhouse is on display.