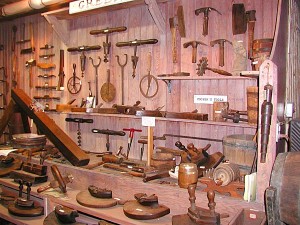 The museum cellars of Greenfield Hall are a tool collector's paradise.The collections include Stone Age tools dating back to the Lenni Lenape and Renape Nations who lived in this area 7000 years ago as well as tools used by tradesmen and homemakers down through the 20th century.
On exhibit are ice harvesting equipment, carriage maker's, automotive and foundry tools, a basket collection, the Quaker preacher Richard Jordan's tool kit and agricultural tools rarely seen excepting by collectors. A major array of domestic tools is displayed.
The collection of cooper's tools from both the Wood Farm and the Bauer's beer barrel cooperage in Philadelphia's Brewerytown are assembled and on public view.
The tools of Mr. Day (shown below), the left-handed cobbler whose shop was on the northeast corner of Tanner Street. and Ye Olde King's Highway, are displayed along with examples of the shoes he produced.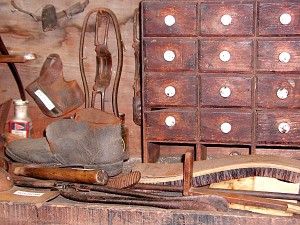 While these tools represent the history of technology, many collections demonstrate the ongoing development of many technologies and the Industrial Revolution. The Digital Revolution is represented only at its very beginning by the slide rule and the instrument which rendered it obsolete, the calculator.
You can browse for an hour and scratch only the surface of this rich assemblage, or you could spend days researching the depths of each collection with the resources available here and beyond to guide you in your pursuit of knowledge. An added attraction of our collections is the cataloging in which every tool is named, described as to its use with the donor's name listed.
Please make an appt. for a tour soon!

The Chairman's guide from A to Z

Agricultural
Baker
Boot maker
Boring tools
Butcher
Cabinet maker
Candlestick maker
Carriage maker
Cooper
Doctor/Dentist/Druggist
Domestic: cook/housekeeper
Edge tools
Experimental lab tools
Fire equipment
Gas Station
Hammer
Harness making
Hat maker
Hog processor
House hardware
Ice harvesting
Jacks/house, car and carriage
Kitchen collectibles
Manufacturer

Mason
Native American
Ox bows and shoes
Pharmacy cures
Planes, wooden, etc.
Plumber
Primitives
Printer
Quaker tools
Railroad
Scales
Shipbuilding Leather worker
Shoemaker
Sports tools Tailor
Tanner
Treenware
Undertaking
User tools
Vehicle: goat cart
Wheelwright
Wrenches
X-tra special things
Yard worker tools
Zany cartoon explanations