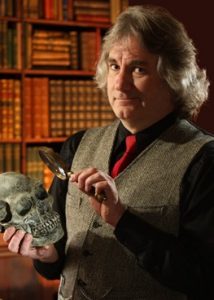 The Society's next General Membership Meeting will be held on Wednesday November 16 at 7:30 pm. Dr. Brian Regal of Kean University will be presenting "The Real Jersey Devil." The event is free for members, with a suggested donation of $5 for non-members.
Due to anticipated interest, we'll be gathering for this event only in the meeting room at the Lutheran Church of Our Savior, 204 Wayne Ave., Haddonfield.
What is or was the Jersey Devil? The actual thirteenth child of Mrs. Leeds, cursed by her to be the spawn of Satan after the burden of bearing twelve other children, or a silly backwoods superstition? Does it bear the features of bat and kangaroo, or is it more like a winged goat? Does it slaughter dogs and pigs and even its own mother, or is it a harmless tale told to add a thrill to Pinelands camping trips? What are the facts behind its birth and how has it lived so long, with sightings still occurring to this day?
According to Dr. Regal, the story of the Jersey Devil is far more important and interesting than the details of its appearance or its authenticity. "The problem is that everything you think you know about the Jersey Devil is wrong," says Dr. Regal. "It is not about a spectral winged horse, demon, but rather the bare-knuckled political and religious upheavals and fights of colonial America. The real story of the Jersey Devil's birth is far more interesting, complex, and important than anyone thinks. It is a product not of witchcraft, but innuendo, scandal, rumor mongering, and media hype. It illuminates a forgotten part of American history. "
Dr. Regal teaches the history of science, technology, and medicine at Kean University. His interests are wide-ranging, including how the fringe and mainstream in science interact. In 2013, he published Searching for Sasquatch: Crackpots, Eggheads and Cryptozoology, exploring the lives of mainstream scientists who believed seemingly far-fetched creatures like the Sasquatch and Yeti were real animals, not simply the products of folklore or hoaxes. He has shared his research in venues ranging from academic journals to the History Channel series "True Monsters." He has collaborated with Kean University colleague Dr. Frank Esposito on a new book, tentatively titled Satan's Harbinger: The Real Story of the Jersey Devil, scheduled to be published this spring.
Hope to see you the 16th for this intriguing presentation!