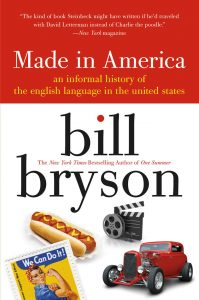 Join us Tuesday, November 15 for the next meeting of the Historical Society of Haddonfield's Book Club. This month, we'll discussing the book Made in America: An Informal History of the English Language in the United States by Bill Bryson.
Bryson shares a fascinating tale of the history of "American" English from the Mayflower to today. You're sure to learn many new things about the language you speak. For instance, why did Americans "save such good old English words as skedaddle, chitterlings, and chore, but not fortnight or heath?"
We'll be meeting at 7 pm at Greenfield Hall, 343 Kings Highway East, Haddonfield. Light refreshments will be served and all are welcome!