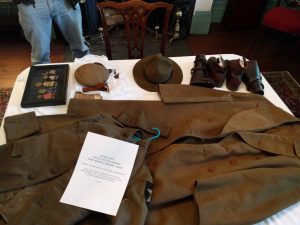 For our upcoming "First Sunday" open hours on December 2, the Historical Society of Haddonfield will be sharing a new pop-up display on "The World Wars." We hope you'll stop by on Sunday December 2 between 1-3 pm. The display will be on view on the first floor of Greenfield Hall, 343 Kings Highway East, Haddonfield. Admission is free, but donations are welcome.
As with our previous pop-up displays, we'll be pulling out a selection of items from our archival and museum collections that help illustrate the theme. We also offer tours of Greenfield Hall on First Sundays, and the Archives Center will be open for researchers next door in the Samuel Mickle House.
The pop-up display will continue through most of December and be available for viewing during Greenfield Hall's public hours (Monday, Wednesday and Friday from 1-4 pm) or by special appointment at another time.