The Historical Society of Haddonfield has received a new $10,000 grant from the Haddonfield Foundation in support of its planned new archives center building. The Foundation awarded the grant in honor of past Historical Society president Pat Lennon, so it will be matched dollar-for-dollar through a challenge grant issued earlier this year by a donor who worked with Pat at the Historical Society and admires her greatly.
"We are so thankful for the foundation's ongoing support of the Historical Society," said Doug Rauschenberger, president of the Historical Society of Haddonfield. "And we're so pleased that this challenge grant is helping to draw even more attention to Pat's many contributions to this community."
With this grant and its match, the Society has now raised more than $858,000 in gifts and pledges for the new building. Donations can be mailed to the Historical Society, and gifts can also be made online. Donors who wish to have their gifts matched must designate that they are giving in Pat's honor.
The Society will begin construction on the new building this month. The planned facility will nearly triple the storage space for archival collections while incorporating up-to-date temperature and humidity controls and fire suppression system in an ADA-compliant building. Space in the new building will also be reserved for Haddon Township Historical Society archival collections, thanks to a generous gift earlier this year from the William G. Rohrer Charitable Foundation.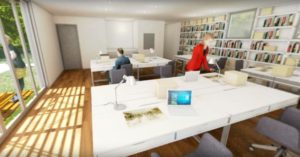 A rendering of the planned new Archives Center reading room.