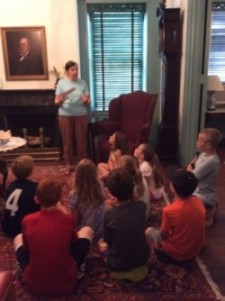 Each year, the Historical Society of Haddonfield hosts visits from elementary schools as part of the school curriculum on local history. Last year, we led tours for ten classes of third-graders as they learned more about Haddonfield's rich past.
This year, we'll be offering tours for second-grade AND third-grade classes, so we need your help!
We're looking for more volunteers for our docent program. Volunteers should be willing to commit to helping with at least two tours of Greenfield Hall this spring. The tours will be held from 1-2:30 pm during the week, and are currently being scheduled with teachers. All volunteer docents are also required to attend a one-hour training session at Greenfield Hall at one of the following times:
– Monday February 29 at 1 pm; or
– Wednesday March 2 at 1 pm; or
– Friday March 4 at 1 pm.
If you're interested, please RSVP to Marsha Marshall at [email protected], and let her know which of those training dates would work best for you. Thank you, and if you have any questions, please contact us at [email protected] or 856-429-7375.