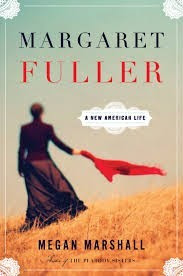 The next meeting of the Historical Society's Book Club is coming up on Monday February 22.
This time, we're holding a joint meeting with the Haddonfield Public Library Book Club. Join us for our discussion at Haddonfield Borough Hall on Monday, Feb. 22, at 7 pm.
The book selection is MARGARET FULLER: A NEW AMERICAN LIFE, by Megan Marshall.
COMING SOON:
Book Club will be back at Greenfield Hall on Sunday April 3, where we'll host Haddonfield resident Carol Chandler Malcarney, author of the newly published LIBERTY STREET.
This collection of World War II correspondence between Janice Y. Chandler and Alfred G. Chandler, M.D., is a daughter's loving tribute to her parents. Carol has collected and published over 700 pieces of war-time correspondence between her parents, giving the reader a glimpse into the life of a family interrupted by World War II.
We're thrilled to have Carol attend our April Book Club meeting and join the discussion.
This book can be purchased at Greenfield Hall during office hours: Monday, Wednesday, and Friday from 1-4 pm. You can also call the office at 856-429-7375 and we'll arrange for you to get the book before the meeting.