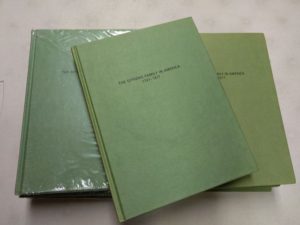 Thanks to a recent donation from a Githens family member, the Historical Society currently has seven copies of the out-of-print book, The Githens Family in America 1741-1977, by Sherwood Githens, Jr., available. The books are available for a donation of $20 each and can be shipped to you.
To place your order, please contact the Archives Center at [email protected] or 856-429-7375.
UPDATE: As of 11/1/2018, all of our extra copies of The Githens Family in America have been claimed.