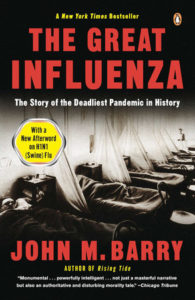 Our next Book Club discussion will be held Monday January 22, 2018, at 7 pm, and will feature two books about the devastating flu pandemic of 1918.
One of the books to be discussed is John M. Barry's The Great Influenza: The Story of the Deadliest Pandemic in History. Barry's account is a sweeping history of the outbreak and its aftermath. The New York Times described the book as "[g]ripping . . . easily our fullest, richest, most panoramic history of the subject."
The second book, Diary of a World War I Nurse, is a PDF transcription of a diary kept by Rosaline Alice Joan Ready during 1917-1918. Rosaline had joined the U.S. Navy Nurse Corps after completing a nurse training program in Brooklyn in 1916. Her granddaughter transcribed this work. Please note that you won't find this item in stores; stop by the Public Library or email the Historical Society at [email protected] for a copy of the PDF.
This January event is a joint meeting with the Haddonfield Public Library Book Club, and we will be gathering at the Public Library at 7 pm for the discussion. All are welcome!