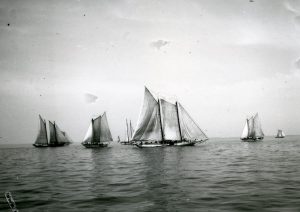 Join us on Wednesday May 24 at 7:30 pm for the Historical Society's next General Membership Meeting and program. Dr. Michael Chiarappa of Quinnipiac University will be presenting, "Planting Bivalves: The History of New Jersey's Delaware Bay Oyster Industry."

The oystering industry along the Delaware Bay is now merely a shadow of its once thriving self. Dr. Chiarappa will explore the history of this bustling industry using historic photographs, and encourages questions and discussion from the audience's own memories of this bygone era. Dr. Chiarappa is a native of Audubon who now resides in Haddonfield.

The event will be held at Greenfield Hall, 343 Kings Highway East, Haddonfield. Free for members, suggested donation of $5 for nonmembers.