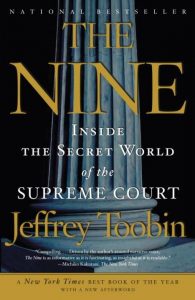 The next meeting of the Historical Society of Haddonfield's Book Club will be Monday, May 15 at 7 pm. We'll be discussing the book The Nine: Inside the Secret World of the Supreme Court, by Jeffrey Toobin.
This book is a joint event with the Haddonfield Public Library Book Club, but it's our turn to host. We'll be meeting at Greenfield Hall, 343 Kings Highway East, Haddonfield.
Toobin's book explores the inner workings of the U.S. Supreme Court, painting a rich picture of the complicated relationships between the nine justices and how their work impacts the country.
As always, all are welcome at the event, even if you haven't read the whole book, and feel free to bring a friend! Light refreshments will be provided.
If you're planning your summer reading, make sure to leave time for our September book selection: Worst President Ever: James Buchanan, the POTUS Rating Game, and the Legacy of the Least of the Lesser Presidents, by Haddonfield resident Robert Strauss. In November, we will discuss Pure Heart: The Faith of a Father and Son in the War for a More Perfect Union, by William F. Quigley.