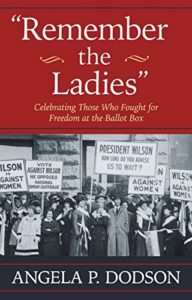 The Historical Society has partnered with Lawnside Historical Society to host a special Women's History Month event on Tuesday March 6. Author Angela P. Dodson will discuss the history of women's suffrage, noting its links to the anti-slavery movement as well as women's impact on U.S. politics and government.
Angela's book, Remember the Ladies: Celebrating Those Who Fought for Freedom at the Ballot Box, was recently named a "Best of 2017" book by the Philadelphia Inquirer. She will sign copies of the book after the event.
The presentation will be held on Tuesday March 6, 2018 at 7:30 pm at the Wayne R. Bryant Community Center, 323 E. Charleston Ave., Lawnside. The event is free, and all are welcome!