Join us for our next virtual Book Club Discussion
on Tuesday, March 22, 2022 at 7:00 PM.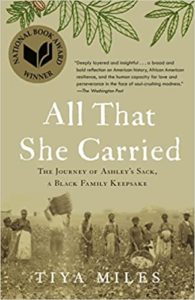 Our next book is All That She Carried: The Journal of Ashley's Sack, a Black Family Keepsake by Tiya Miles
This poignant story of an enslaved mother's love for her child is written by noted Harvard Historian Tiya Miles. She uncovers the story behind a sack found in a Nashville flea market in 2007 and later put on display at the Smithsonian National Museum of African American History and Culture. Rose, a slave in South Carolina, gave the sack to her 9 year old daughter Ashley as she was about to be sold, knowing she might never see her again. Rose hoped the items in the sack would help keep Ashley safe. The message on the sack was embroidered by Ashley's granddaughter, Ruth, in 1921.
NYT Book Review: "In One Modest Cotton Sack, a Remarkable Story of Slavery, Suffering, Love and Survival"