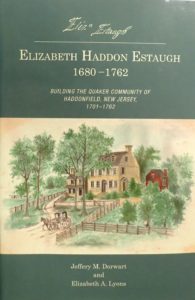 After a brief hiatus, we recently launched a new online form for ordering copies of books published by the Historical Society of Haddonfield.
You can now use the online system to order copies of books like Haunted Haddonfield, Elizabeth Haddon Estaugh 1680-1762, or Jan Twitchell's autobiography, A Fortunate Life, among others.
The new online system is connected directly to PayPal, or you can download a paper version of the order form and mail it to us with a check. Click here to check out the new online form.
Members get a 10% discount on purchases; contact us at 856-429-7375 or [email protected] to get your discount code BEFORE placing your order.
In addition, we still have a handful of prints of the 1899 Haddonfield birdseye map for sale. The unframed print is 20″ x 30″, and available for $50 (tax included). Please contact our office to place your order for a print.