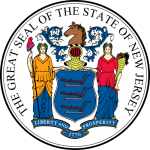 The Historical Society of Haddonfield has been awarded two grants totaling $31,400 to plan and undertake a capital campaign for its new Archives Center, which was recently approved by Haddonfield's Zoning Board of Adjustment to be built on the site of an existing garage on the Society's property.
The New Jersey Cultural Trust awarded the Society $26,400 through its Institutional and Financial Stabilization grant program, which rotates annually between funding arts, history, and cultural institutions in the state. The Historical Society is the only recipient in Camden County this year.
The Haddonfield Foundation awarded an additional $5,000 to the Society's effort to undertake the capital campaign.
"Together, these generous grants will allow us to take the next steps to making the Archives Center a reality and securing the community support we need to construct the building," said Carol W. Smith, President of the Historical Society of Haddonfield. "These awards will allow us to work with experts experienced in planning and managing a capital campaign of this scale."
The Society's proposed Archives Center is expected to cost approximately $850,000. The new two-story building was designed by Haddonfield resident Eduardo Guzman of DCM Architecture and Engineering, and reinterprets an earlier barn that had stood on the site. The new Archives Center will provide much-needed space for the Society's archival holdings, which include correspondence, photographs, diaries, scrapbooks, maps, pamphlets, ephemera, books, and more.