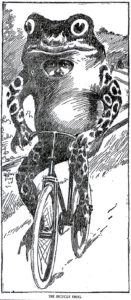 By popular demand, the Historical Society has decided to extend the Haddonfield Frog Race until November 15!
Inspired by an actual bicycle race that was held in Haddonfield in 1897, we are challenging you to complete 11 miles biking, running, walking, or even swimming before November 15. Frog costumes are optional!
Register now for this fundraising event. The cost is $25 for ages 13 and up, and $20 for ages 12 and under.
(Already completed your 11 miles? You can submit your activity log here.)
The first 100 registrants will get a free t-shirt with an image of the original frog-costumed bike rider, and all those who submit their completed race form before November 15 will be entered into a drawing to win an $80 gift certificate to the Philadelphia Zoo (i.e. 4 free tickets).
The 2020 version of the Haddonfield Frog Race is virtual, of course, and all participants must follow state and local COVID-19 and safety regulations.
You can complete your 11 miles inside or outside, in one outing or 100 outings, fast or slow. It's up to you!
The original 1897 frog race was held on New Year's Eve. A group of bicycle riders held a race through Haddonfield to try to catch a leader who happened to be wearing a large, inflatable frog costume. (We wrote about the race in the March 2017 issue of the Bulletin.)
Newspapers around the country ran articles about the 11-mile race, and we found mentions of the race in newspapers in Rochester and Syracuse, New York; Lawrence, Kansas; and Washington, D. C., among others.
The organizer of the 1897 race – and the rider wearing the frog costume – was Mr. G. L. Carr, of Haddonfield. According to the 1895 Haddonfield directory, Guy L. Carr was a clerk for the druggist, C. S. Braddock Jr., at 201 East Main Street (now Kings Highway). By 1900, the Haddonfield directories list him as a painter. He had disappeared from the directories by 1908 and no further information is known about Carr.
We hope the 2020 (virtual) Haddonfield Frog Race will be a fun, family-friendly diversion during this Haddonfield Virus Year.
You can learn more and register for the race by clicking here.
Questions? Contact the Historical Society office at [email protected] or 856-429-7375.