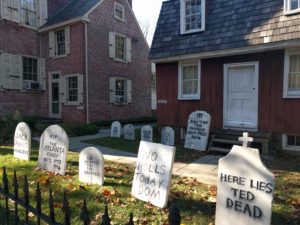 The Historical Society of Haddonfield is pleased to announce that local favorite Bill Meehan will once again be leading Haunted Haddonfield Walking Tours in October — this year with new social distancing protections in place.
Tours will be held on October 16, 17, 23, 24, 30 and 31, 2020, with a rain date planned for November 1. Tickets are $15 for adults and $10 for kids 12 and under. Proceeds benefit both the Historical Society and the Haddonfield Public Library.
This year, ALL tickets must be purchased online in advance. Buy your tickets now!
Each tour will be limited to only 25 participants, and no tickets will be sold on-site to allow us to strictly limit our group sizes. (The Eventbrite ticketing system will only offer tickets that are still available; if your first-choice date is sold out, try another date!)
In addition, all ticket-holders aged 2 and up will be required to wear a face covering to participate, and we will be encouraging physical distancing between household groups.
Ticket-holders will meet in front of Greenfield Hall, 343 Kings Highway East, Haddonfield.
Other frequently asked questions:
Ticket-holders will have NO access to bathrooms during this walking tour.
Yes, the tour is child friendly generally speaking, but of course it also depends on the child.
The walk is less than 1 mile with several stops through a cemetery. The tour lasts about 45 minutes and may include uneven sidewalks, brick paths, and unpaved paths. Feel free to call the Historical Society's office at 856-429-7375 to discuss more specifics.
Please bring a flashlight!
Because these are outdoor tours, the Historical Society will be in touch with ticket-holders directly if inclement weather is expected to change our plans.
Other questions? Contact the Historical Society at 856-429-7375 or [email protected].