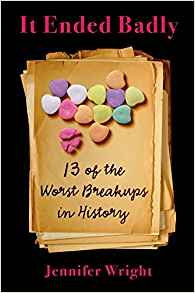 The Historical Society Book Club's next meeting will be Tuesday November 27 at 7 pm in Greenfield Hall.
We will be discussing It Ended Badly: Thirteen of the Worst Breakups in History, by Jennifer Wright. The book is an amusing review of "the worst of the worst in historically bad breakups," from Nero in Ancient Rome to Elizabeth Taylor in the 20th century. Library Journal says the "writing fits right in with the work of comedian authors Tina Fey and Chelsea Handler."
As always, all are welcome at our discussion, even if you haven't read the book. Light refreshments will be served.
Have a suggestion for a future selection for the Book Club? Feel free to call or email the office with your ideas.