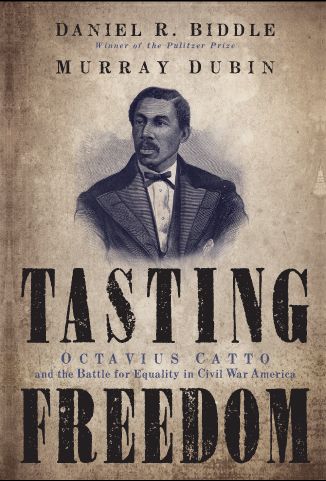 The Historical Society Book Club's next meeting will be Tuesday June 4 at 7 pm at Greenfield Hall, 343 Kings Highway East, Haddonfield. We'll be discussing Tasting Freedom: Octavius Catto and the Battle for Equality in Civil War America, by Daniel Biddle and Murray Dubin.
(You may recall that the Historical Society welcomed Biddle and Dubin for a general membership meeting presentation about Catto in September 2018.)
An educator in Philadelphia, Catto's accomplishments included leading a successful effort to desegregate streetcars and to have Pennsylvania ratify the 15th Amendment, which granted black men the right to participate in elections. He was murdered in 1871 by a member of a white mob while on his way to vote.
The Philadelphia Inquirer called the book "a marvelous historical feast," while historian Eric Foner said, "This dramatic book not only rescues the intrepid Octavius Catto from obscurity but reminds us that this struggle—and the violent opposition to it—long predated the modern civil rights era."
As always, all our welcome at the discussion, even if you haven't read the book. Light refreshments will be served.
Looking further ahead, the Book Club's summer book selection will be Frederick Douglass: Prophet of Freedom, by David Blight. This is a joint book club selection with the Haddonfield Public Library, and the discussion will be held Monday September 23 at 7 pm at the public library, 60 N. Haddon Avenue, Haddonfield.