The Historical Society will be holding an open house and new pop-up display on Saturday June 1 from 10-12 pm and 2-4 pm, in conjunction with the "Skirmish on the Highway" sponsored by the Friends of the Indian King Tavern Museum.
The pop-up display will be held in the first floor of Greenfield Hall, 343 Kings Highway East, Haddonfield. We'll be pulling out a selection of items from our archival and museum collections from the 1730s-1770s. These treasures will include textiles, recipe books, property records, correspondence, and other items that help shed light on what life was like in a small Quaker village in the years leading up to the Revolutionary War.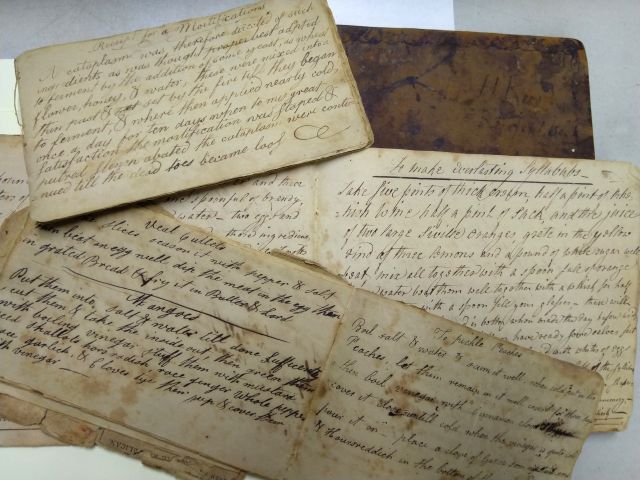 During the open house, the Historical Society will also be offering tours of Greenfield Hall, and upon request, the Archives Center and Research Library will be available for researchers next door in the Samuel Mickle House.
Free, but donations welcome.
Please note that we will NOT be holding our usual "First Sunday" hours the next day; come see us on Saturday instead!
The pop-up display will continue through most of June and be available for viewing during Greenfield Hall's public hours (Monday, Wednesday and Friday from 1-4 pm) or by special appointment at another time.  
The Historical Society will also be holding Colonial Haddonfield Walking Tours on June 1 at 10 am and 2 pm. Tickets are $25 per person, and space is limited to 20 participants on each tour. We recommend purchasing your tickets ahead of time; these tours are likely to sell out.
Questions? Contact the Historical Society at [email protected] or 856-429-7375.