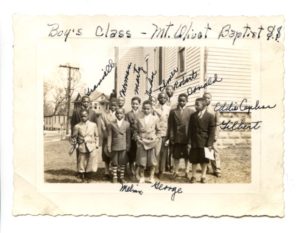 Due to popular demand, the Historical Society has decided to extend its one-day-only display in honor of Black History Month for a full week.
The display will be available for viewing during the Society's public hours this week (Feb. 5 – Feb. 9). We are open Monday, Wednesday and Friday from 1-4 pm and Tuesday and Wednesday from 9:30-11:30 am. If none of those times work for you, please contact the office to see if it's possible to make a viewing appointment for another time: 856-429-7375 or [email protected]
We've pulled out a selection of photographs, printed ephemera, manuscripts, and other collection items that help illuminate the history of African American life in Haddonfield, Lawnside, and Saddlertown in the eighteenth, nineteenth, and twentieth centuries. The items are displayed on the first floor of Greenfield Hall, 343 Kings Highway East, Haddonfield. Admission is free, but donations are welcome.