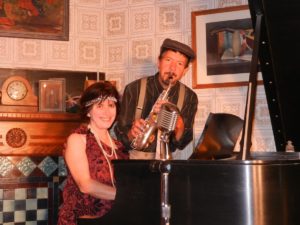 We hope you'll join us on Wednesday March 21 at 6 pm for our annual Candlelight Dinner and General Membership Meeting at Tavistock Country Club.
This year's toe-tapping program will feature a presentation on "Tunes of the Twenties and All That Jazz: The Stories Behind the Songs," by Dr. Robert Rawlins and his performing quartet.
Rawlins will be recounting some of the stories and songs from his book of the same name, Tunes of the Twenties and All That Jazz. He will also be performing on a variety of woodwind instruments, while his quartet will provide accompaniment on piano, banjo, tuba, and other instruments. Rawlins is a professor of music theory at Rowan University, and has served as a band leader in Atlantic City and elsewhere.
You can order your tickets online or send us the order form in the March 2018 Bulletin newsletter, which will be arriving in mailboxes later this month. You can also call the office at 856-429-7375 or stop by during our open hours: Mondays, Wednesdays and Fridays between 1-4 pm.
We look forward to seeing you at the dinner!