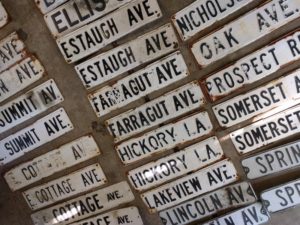 The Historical Society is pleased to launch a unique fundraiser with a selection of old Haddonfield street signs. These are full-size vintage signs that would look great on a wall, on a shelf, or otherwise on display.
We are asking for a minimum donation of $100 per sign, and all proceeds benefit the Historical Society.
Streets and quantities are limited. If you're interested, please contact Society trustee Karynna Baresel at kbaresel@mac.com.
Available street signs as of July 20:
Birdwood Ave.
Clinton Ave.
E. Cottage Ave.
E. Summit Ave.
Ellis Street
Estaugh Ave.
Farragut Ave.
Hickory Lane
Lakeview Ave.
Lincoln Ave.
Narberth Ave.
Nicholson Lane
Oak Ave.
Prospect Rd.
Somerset Ave.
Springfield Terr.
Spruce St.
Stiles Ave.
W. Summit
Walnut St.
Wayne Ave.
Wellington Ave.
Windsor Ave.
Wood Lane
Woodland Ave.