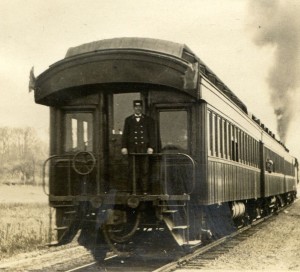 September 30, 7:30 PM, Greenfield Hall
As one hears the rattle of the PATCO trains and the whine of the NJ Transit whistles blowing late at night, it's easy to think of the rail lines in and around Haddonfield as a convenient benefit and occasional nuisance. But much as the rivers had shaped the town in its founding, during the latter half of the 19th century and well into the 20th the railroads made their mark on Haddonfield, bringing it into the modern world and tying it inextricably to other communities both near and far. Traces of this history, both obvious and hidden, can still be found around town and nearby. Join us at our next general meeting, on September 30th, where Dr. Hank Cutler and Randy Acorcey will serve as guides to locating this history and relate the tale it tells about the transformation of our town.
Mr. Acorcey and Dr. Cutler have long held an interest in local history, but their present passion was sparked by the discovery of an old rail bed uncovered in Cherry Hill while Mr. Acorcey was walking his dog. They have done extensive research on the Philadelphia, Marlton and Medford Line of which this was part. The Medford Branch also ran through Haddonfield, where it joined up with other railroads, making the town a true locus of railway transportation and contributing to its growth. The presentation will include images of rare railroad maps, historical photographs (some from the Society's collection), aerial photographs taken over the years, present day photographs and satellite maps of the path of both this railroad and the other lines that served Haddonfield. They have prepared and presented this presentation to the Cherry Hill Rotary and elsewhere, but September's talk will specifically focus  on the Haddonfield's role in local railroad history, a focus that comes naturally to Dr. Cutler with whose dental practice on Kings Highway many of you may be familiar.
The presentation will held at Greenfield Hall at 7:30 on Wednesday, September 30. Please note the slightly later date scheduled in order not to conflict with surrounding holidays. All are welcome. Join us for an evening of socializing with your fellow friends of the Historical Society and to share your own memories and thoughts on these images of Haddonfield's history, carefully curated to evoke a time when the railways dominated and to heighten our awareness of the traces they left behind.
Article by: David Stewart