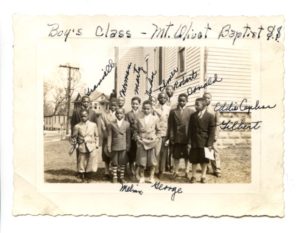 For our next "First Sunday," the Historical Society of Haddonfield will be sharing a one-day-only display in honor of Black History Month.

We'll be pulling out a selection of photographs, printed ephemera, manuscripts, and other collection items that help illuminate the history of African American life in Haddonfield, Lawnside, and Saddlertown in the eighteenth, nineteenth, and twentieth centuries. The items will be displayed on the first floor of Greenfield Hall, 343 Kings Highway East, Haddonfield. Admission is free, but donations are welcome.

Like other First Sundays, we will also be offering tours of Greenfield Hall between 1-3 pm, and the Archives Center will be open for researchers next door in the Mickle House.