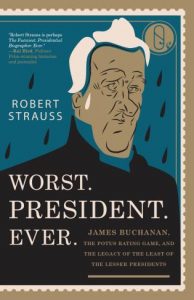 We are thrilled to have Haddonfield resident and author Robert Strauss attend our next Book Club meeting on Tuesday, September 26 at 7 PM.
We'll be discussing Robert's book, Worst. President. Ever.: James Buchanan, the POTUS Rating Game, and the Legacy of the Least of the Lesser Presidents."
The book is an irreverent exploration of James Buchanan's presidency and his disastrous term in the years before the outbreak of the Civil War, as well as the idea of ranking presidents at all. Kirkus Reviews concludes that he "makes a firm argument for the essential doofusness of the 15th president." The book has won both an IPPY and a Foreword INDIE, national awards for biography.
As always, all are welcome at the event, even if you haven't read the whole book, and feel free to bring a friend! Light refreshments will be provided.
We'll be meeting at Greenfield Hall, 343 Kings Highway East, Haddonfield.
In November, we will discuss Pure Heart: The Faith of a Father and Son in the War for a More Perfect Union, by William F. Quigley.