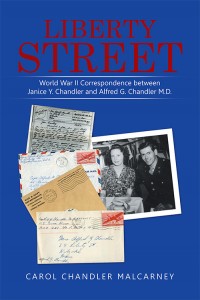 The next meeting of the Book Club is Sunday, April 3 from 2 – 4 PM. We'll be discussing Liberty Street, by Haddonfield resident Carol Chandler Malcarney. And Carol will be joining us for the conversation!
Carol authored the newly published book, Liberty Street. This collection of World War II correspondence between Janice Y. Chandler and Alfred G. Chandler M.D, is a daughter's loving tribute to her parents. Carol has collected and published over 700 war time correspondence between her parents, giving the reader a glimpse into the life of a family interrupted by World War II.
Looking ahead, here are the next few books we're be reading in the Book Club. All discussions will be held in Greenfield Hall unless otherwise noted, and all are welcome!
Tuesday, May 10, 7 pm – The Great Bridge: The Epic Story of the Building of the Brooklyn Bridge, by David McCullough
Tuesday, September 13, 7 pm – Alexander Hamilton, by Ron Chernow
Tuesday, November 15, 7 pm – Made in America: An Informal History of the English Language in the United States, by Bill Bryson