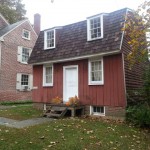 The Historical Society of Haddonfield has been awarded $29,238 from Camden County's Open Space, Farmland, Recreation and Historic Preservation Trust Fund to support the Society's ongoing stewardship of the circa 1736 Samuel Mickle House.
The Samuel Mickle House, also known as the Hip Roof House, is a remarkable example of early eighteenth-century frame construction. The small one and one-half story gambrel roof structure is the oldest frame building in Camden County. It was moved to its present site next to the Historical Society's headquarters in 1965, and currently houses the Society's Archives Center and Research Library.
"We're proud to be the stewards of this important historic building, and we're thrilled that this grant will allow us to make some necessary improvements," said Carol W. Smith, President of the Historical Society of Haddonfield.
The historic preservation grant from Camden County will allow the Society to strengthen the structure by installing posts and beams in the basement and making other small repairs to the first floor framing and stair. The grant will also support improvements to basement plumbing and ducts, in part to better protect the building's timber framing.