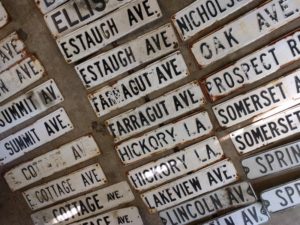 The Historical Society is pleased to launch a unique fundraiser with a selection of old Haddonfield street signs. These are full-size vintage signs that would look great on a wall, on a shelf, or otherwise on display.
We are asking for a minimum donation of $100 per sign, and all proceeds benefit the Historical Society.
Streets and quantities are limited. If you're interested, please contact Society trustee Karynna Baresel at [email protected].
UPDATE #5: Available street signs as of August 6:
Birdwood Ave. – reserved
Centre St. – reserved
Clinton Ave. – reserved
E. Cottage Ave. – reserved
E. Summit Ave.– reserved
Ellis Street – reserved
Estaugh Ave.– reserved
Farragut Ave. – reserved
Fowler Ave.
Hickory Lane – reserved
Lakeview Ave.– reserved
Lincoln Ave. – reserved
Narberth Ave. – reserved
Nicholson Lane– reserved
Oak Ave.– reserved
Prospect Rd. – reserved
Somerset Ave.
Springfield Terr.
Spruce St. – reserved
Stiles Ave.
W. Summit– reserved
Walnut St. – reserved
Washington Ave.– reserved
Wayne Ave.– reserved
Wellington Ave. – reserved
Windsor Ave.– reserved
Wood Lane – reserved
Woodland Ave. – reserved