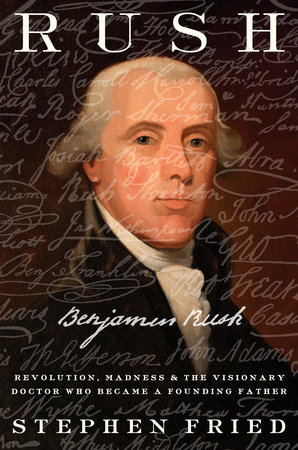 The next meeting of the Historical Society's Book Club will be Tuesday April 16, 2019 at 7 pm at Greenfield Hall, 343 Kings Highway East, Haddonfield.
We'll be discussing Rush: Revolution, Madness and Benjamin Rush, the Visionary Doctor Who Became a Founding Father, by Stephen Fried.
Benjamin Rush was a physician and internationally known writer and agitator, and was only 30 years old when he added his signature to the Declaration of Independence. Publishers Weekly called the book a "comprehensive and fascinating biography . . . that will keep readers engaged until the last page." The Philadelphia Inquirer said, "Reminds us eloquently, abundantly, what a brilliant, original man Benjamin Rush was, and how his contributions to Philadelphia and the United States continue to bless us all."
As always, all are welcome at our discussion, even if you haven't read the book. Light refreshments will be served.
After April, the Book Club will next meet on Tuesday June 4 at 7 pm to discuss Tasting Freedom: Octavius Catto and the Battle for Equality in Civil War America, by Daniel R. Biddle and Murray Dubin. (You may recall that the Historical Society welcomed Biddle and Dubin for a general membership meeting presentation about Catto in September 2018.)