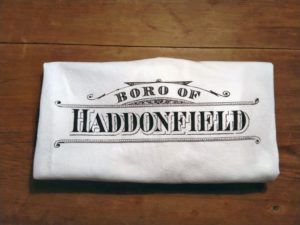 Just in time for the Historical Society's December pop-up display about cooking and harvest time: we are selling new souvenir tea towels.
Each white cotton towel is printed with "Boro of Haddonfield," mimicking the label on a 1907 Haddonfield map in our archival collections.
The towels cost $16 each (including tax), and can be purchased at Greenfield Hall starting this Sunday, December 1 during our open hours — 1-3 pm. After that, you can purchase towels while supplies last during Greenfield Hall's open hours (Mondays, Wednesdays, Fridays from 1-4 pm), or we can ship them for an additional charge of $5 for up to two towels.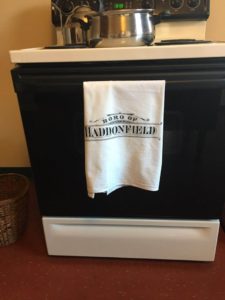 Looking for more holiday gifts? We also still have a limited run of reprints of the popular 1899 birds-eye view map of Haddonfield. The unframed map print is 20″ x 30″, and available for $50 (tax included). We are also offering framed versions of the print for $150.
The maps are available to pick up during our regular open hours, or by appointment outside of those open hours. We can ship unframed prints for an additional charge of $10. Please call or email the office to place your order today: 856-429-7375 or [email protected].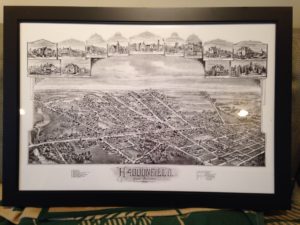 Last but not least, don't forget that Historical Society publications make excellent holiday gifts! You can find the full list of Historical Society publications available for sale here and either place your order online or stop by the office during our open hours.
Happy holidays!