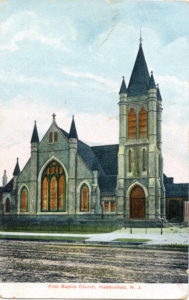 For the Historical Society's next "First Sunday" pop-up display on June 3, we will be working in cooperation with the First Baptist Church of Haddonfield to celebrate its 200th anniversary.
The Historical Society will be pulling out a variety of archival materials that relate to the church, including printed ephemera, historic images, a nineteenth-century ledger kept by a congregant, and various other manuscript materials. The church's 200th anniversary committee will be sharing items from the congregation's own historical collection, including a diary kept by its first minister, Rev. John Sisty (1783-1863).
We hope you'll join us at Greenfield Hall, 343 Kings Highway East, Haddonfield, on Sunday June 3 anytime between 12:30 pm and 3 pm. The Baptist Cemetery just across the street will also open its chapel from 2-3 pm that day.
Like other "First Sundays," the Society will be offering our usual tours of Greenfield Hall, and the Archives Center and Research Library will be open for researchers next door in the Samuel Mickle House.
If you miss the Baptist Church display on Sunday June 3, it will continue in Greenfield Hall during the Historical Society's public hours on Monday June 4 and Wednesday June 6.