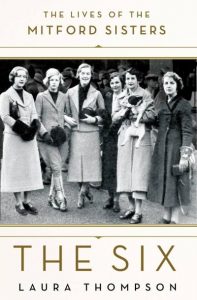 Join us for the next meeting of the Historical Society of Haddonfield's Book Club on Monday, March 20 at 7 pm. We'll be discussing the book The Six: The Lives of the Mitford Sisters, by Laura Thompson.
This book is a joint event with the Haddonfield Public Library Book Club, so for this discussion, we'll be meeting at the Haddonfield Public Library, 60 N. Haddon Ave., Haddonfield.
Thompson's book is a fascinating biography of six sisters whose intertwined lives "hold up a revelatory mirror to upper-class English life before and after WWII."
The book was selected as an "editor's choice" by the New York Times Book Review, while Kirkus Reviews called it "smart, jaunty, and wittily entertaining." The Atlantic described the book as "meticulously researched, elegantly written . . . an artful history of a most enthralling family."
As always, all are welcome at the event, even if you haven't read the whole book! Light refreshments will be served.