Members of the Historical Society receive our newsletter, The Bulletin, four times a year. Click here to learn more about the Bulletin and browse through past issues.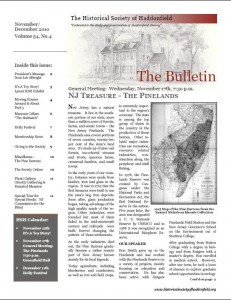 The Historical Society also publishes books and pamphlets periodically. Several of these books can be purchased through Amazon. CLICK here to purchase.
Society members receive a 10% discount.
| | |
| --- | --- |
| Books | Price |
| Custer, Kimberly J. with the Haddonfield Middle School Nature Club, Samuel N. Rhoads of Haddonfield, NJ: Birds, Books, and Big Adventures.. 2016. 62 p. | $ 12.00 |
| Mountney, Helen Stevens, Haddonfield on the Move. 2014. 210 p. | $ 15.00 |
| Dorwart, Jeffery M. and Lyons, Elizabeth A., Elizabeth Haddon Estaugh: 1680 – 1762. Building the Quaker Community of Haddonfield, New Jersey, 1701 – 1762. 2013. 294 p. | $ 25.00 |
| Tassini, Katherine M. and Rauschenberger, Douglas B., Arcadia "Images of America" series book HADDONFIELD. 2008, 127 p. | $ 21.99 |
| Meehan, William E., Jr. Haunted Haddonfield. Haddonfield, NJ, 2002. 112 p., il. | $ 11.00 |
| Monshaw, Harriet G., Elizabeth French Gill 1794-1854. Haddonfield, NJ, 1998. 106 p., il. | $ 12.00 |
| Rauschenberger, Douglas B. and Tassini, Katherine M., Lost Haddonfield. Haddonfield, NJ, 1989. 175 p., il. | $ 18.00 |
| | |
| --- | --- |
| Pamphlets | |
| No. 1. Gill, Julia B. "A Brief History of Mountwell." Hartel, Carrie E. Nicholson. "The Tanyard and Its Owners." Haddonfield, NJ, Reprint 1946. 16 p. | $ 1.00 |
| Ser. 2, No. 1 Rhoads, Samuel N. "Boyhood Memories of Boxwood Hall." Rhoads, Catherine E. "Memories of My Youth." Haddonfield, NJ, 1967. 19 p. | $ 1.00 |
| Ser. 2. No. 2 Tatem, Marion Pennypacker. "Haddonfield: Its Life with Railroads, 1854-1976." Haddonfield, NJ, 1979. 32 p., il. | $ 2.00 |
| Unnumbered. Hartel, Carrie E. Nicholson. "The New Jersey Building." Haddonfield, NJ, 1975. 19 p., il. | $ 1.50 |
| Holmes, Thomas B. and Merritt W. Pharo. "The Haddonfield Home of Edward Drinker Cope." Haddonfield, NJ 1992. 27 p., il. | $ 5.00 |
| | |
| --- | --- |
| Maps | |
| "Haddonfield, New Jersey 1899" Reproduction of an early lithograph; bird's-eye view of borough streets and buildings | Currently Unavailable |
| "The Borough of Haddonfield in 1875" Compiled by Joseph N. Hartel and Jesse G. Haydock, Jr. 1976. Borough Streets and landholdings | Currently Unavailable |
| | |