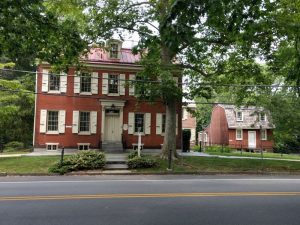 If you haven't already done so, please take a minute to renew your Historical Society of Haddonfield membership today. You can send in your check or click on the PayPal link in the right margin to renew today.
(And if you have already renewed, thank you so much!)
As always, your membership has enabled us to accomplish so much this year. Thanks to your support, we have been able to continue our work with local students and educators, including tours for both second- and third-graders at local schools. We also mentored more than 80 students from Haddonfield Memorial High School working with primary source materials in our Archives Center.
We completed repairs and improvements to the Samuel Mickle House, the oldest frame structure in Camden County. We also invested in new tools for preserving our museum collections, and put more objects on display in Greenfield Hall. And we continue to reach out to new audiences with our public programs, which include free-to-members lectures, and our book club.
We have even bigger plans for next year and need your continued support.
Please consider renewing at $35, $55, or more today. You can mail in a check, or donate via PayPal (just note in the "special instructions" that this is for your membership).
Thank you in advance for your continued support!