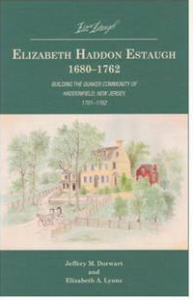 Join us, Sunday, May 4 at 2:00 PM for the Historical Society's Book Club discussion of the founder of Haddonfield, Elizabeth Haddon Estaugh: 1680-1763.
Greenfield Hall
343 Kings Hwy. E.
Doug Rauschenberger & Kathy Tassini, co-editors, will tell us about the challenges and delights of this major HSH publication.
Light refreshments will be served.
Please RSVP to Nina @ 856.429.7375