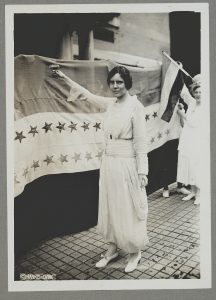 Our next general membership meeting will be held on Wednesday September 28 at 7:30 pm at Greenfield Hall, and will feature a presentation by Lucienne Beard on "Alice Paul: New Jersey's Heroine for Equality." Beard is executive director of the Alice Paul Institute in Mt. Laurel, and the presentation and discussion will feature original photographs from her personal collection, explore Alice Paul's life, her roots in the New Jersey Quaker community, and her work for women around the world.
Who is Alice Paul? That's a question few would have needed to ask in the early twentieth century when she was at the forefront of the women's suffrage movement. Organizer of some of the most prominent and contentious suffrage rallies, founder of the National Women's Party, author of the original Equal Rights Amendment, she was a figure constantly in the public eye. Her clashes with those both in and out of the movement and her outspoken support of women's rights resulted in imprisonment and worse, but also made her "what Gandhi was to Indian independence and Martin Luther King was to civil rights," according to her biographer, Mary Walton.
Despite a life devoted to gender issues and equality even after women were finally granted the right to vote, her fame waned and she was largely forgotten at the time of her death in 1977 in Moorestown, NJ. But she has finally begun to receive her due: she will appear on a new $10 bill along with other pioneers of women's rights, a Google doodle marked her birthday, and the headquarters of the National Women's Party has been recognized as a national monument.
The Alice Paul Institute in Mt. Laurel has spearheaded this overdue appreciation of her impact. Headquartered at historic Paulsdale, the "home farm" of the Paul family, the Institute seeks to honor Paul's legacy by working to achieve full gender equality worldwide.
As we approach the 100th anniversary of the passage of the Nineteenth Amendment granting American women the right to vote, Alice Paul's work to this end and beyond is even more relevant and significant. It is fascinating to explore its roots here in South Jersey and nearby areas along with the efforts and trials she endured extending the courage of her convictions worldwide in ways that continue to resonate. Please join us at Greenfield Hall on Wednesday, September 28 as we get to know Alice Paul and the lasting effects of her work.