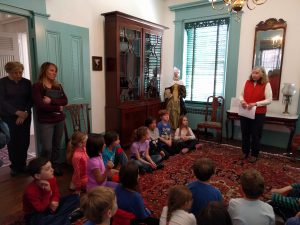 As 2016 comes to a close, please consider making a special year-end gift to the Historical Society of Haddonfield.
Thanks to your past support, the past year has been an exciting time around here.
We've expanded our work with local students and educators, created new tours for second graders, published a book about Samuel Nicholson Rhoads co-authored by Haddonfield Middle School students, and continue to mentor high school students working with primary sources in our Archives Center.
And we continue to reach new audiences with our public programs, our book club, and our website. But we also have important responsibilities as the stewards of historic Greenfield Hall and the Samuel Mickle House, the oldest frame structure in Camden County.
Would you consider making a special gift to help us complete some important maintenance and restoration work in Greenfield Hall this year? Your donation will help us tackle projects from the roof to the basement, helping to ensure that Greenfield Hall is here for generations to come. We are a 501(c)(3) organization, so your gift will be tax deductible to the full extent of the law.
You can donate today by clicking on the yellow "donate" button in the right column of this page, or by mailing a check to Historical Society of Haddonfield, 343 Kings Highway East, Haddonfield, NJ 08033.
Thank you in advance, and happy new year!