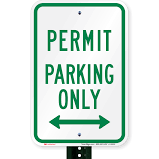 If you're planning to visit the Historical Society during business hours, please be aware that street parking during the day is currently VERY limited due to construction at neighboring Haddonfield Memorial High School. If you can carpool or walk to the Society, please do.
Kings Highway East and other surrounding streets will require parking permits until 3 pm starting Monday Sept. 11, 2017 through the end of January 2018, to allow space for teachers and staff to park on the street using temporary permits. Students will therefore be taking up whatever other street parking can be found beyond the perimeter of the permit-parking zone. You can see a map of the full permit zone here.
If you need to drive to the Society, you may be lucky enough to find a space right in front of Greenfield Hall, either in the designated three-hour parking spaces or in the handicapped space. We also offer several off-street parking spaces behind the Mickle House on Kings Lane:
– one space on the far side of the Society's detached garage;
– two spaces on the apron of our detached garage; and
– three spaces across from our detached garage.
You can also search for public parking on Kings Highway East starting west of Evergreen Ave., and check the public parking lot behind Borough Hall (two blocks away).
Please give us a call if you're having trouble finding a space and we will do our best to offer some assistance.