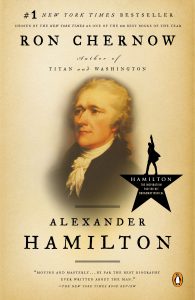 Plan your summer reading now, and mark your calendars for the next meeting of the Historical Society's Book Club on Tuesday, September 13, at 7 pm in Greenfield Hall.
We'll be discussing Alexander Hamilton, by Ron Chernow.
According to historian Joseph Ellis, the biography is "a robust full-length portrait, in my view the best ever written, of the most brilliant, charismatic and dangerous founder of them all." It also served as inspiration for the hit Broadway musical, "Hamilton."
If you can't make it for this discussion, save the date for the next selection. All are welcome!
Tuesday, November 15, 7 pm – Made in America: An Informal History of the English Language in the United States, by Bill Bryson