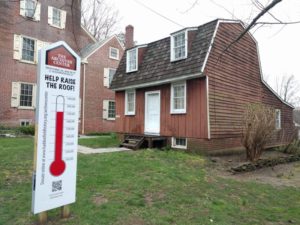 The Historical Society of Haddonfield has received a new $5,000 grant from the Rotary Club of Haddonfield Foundation in support of its planned new archives center building.
With this gift, the Historical Society has raised more than $722,000 for a new archival center to be built on its property on Kings Highway East in Haddonfield. A significant restricted endowment allows the Society to employ a professional archivist and covers other expenses of the archives center as well.
"This generous gift from the Rotary Club of Haddonfield Foundation means we have now raised 80 percent of our fundraising goal," said Doug Rauschenberger, president of the Historical Society of Haddonfield. "We are so grateful for this show of support from the foundation and the community at large."
The Society expects to break ground for the project this summer.
The Historical Society also recently announced a challenge grant for the new building whereby all donations made in honor of past president Pat Lennon will be matched dollar-for-dollar by a donor who worked with Pat at the Historical Society and admires her greatly. The goal of the community challenge is to raise enough funds to reserve one of the new building's naming opportunities in Pat's honor.
Donations can be mailed to the Historical Society, and gifts can also be made online here. Donors who wish to have their gifts matched must designate that they are giving in Pat's honor.