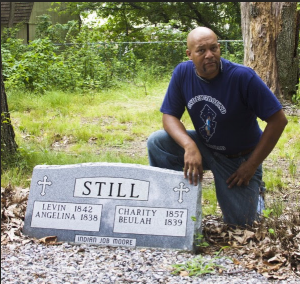 Samuel Still will present, Legacy of an American Family: The Still Family in South Jersey.
Samuel Still wants people to know that the history of the Still family is an American success story. Its first ancestors arrived in America in the 1600's, and the family went on to establish itself in the new nation, most prominently in South Jersey. From humble beginnings, the Stills have produced notable figures in the arts, medicine, religion, academics, social justice, athletics and other fields.
What is remarkable, though sadly not unique, about the Still family are the odds they had to overcome to achieve this success. That first ancestor was brought here in indentured servitude. Progenitors Charity and Levin Still (third great grandparents to Samuel) had to escape slavery in order to establish their lives in New Jersey, and leave some of their children behind, one of whom died as the result of a whipping while in captivity. Even when they found freedom in their new home, the world around them was not always welcoming because of their color.
Charity and Levin's son, James, wanted to become a doctor but "was not the right color to enter where such knowledge was dispensed." He became a self-taught herbalist and known as the "Black Doctor of the Pines." His son would go on to Harvard Medical School and a niece would become a pioneering female doctor. His younger brother, abolitionist William Still, authored The Underground Railroad, an invaluable set of first hand tales of those escaping from slavery. Not simply a recorder, he enabled the operations of the Underground Railroad throughout the area, including Haddonfield. Other accomplished Still relations include the composer William Grant Still and Pro Bowl football player Art Still. Please join us on May 25th to hear more about this incredible family.
Samuel Still currently serves as Chairman of the Dr. James Still Historical Office and Educational Center in Medford, NJ.