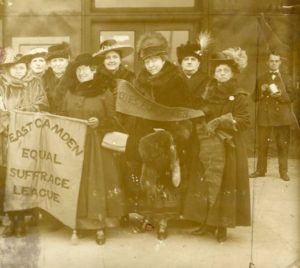 For our next "First Sunday" on March 1, the Historical Society will be hosting a different type of pop-up display: a traveling exhibit about women's suffrage in New Jersey.
The traveling exhibit was created by the Alice Paul Institute in honor of this year's 100th anniversary of the 19th Amendment, which granted women the right to vote. The exhibit's panels will be on display in the first floor of Greenfield Hall, 343 Kings Highway East, Haddonfield, until Wednesday March 11.
As with other "First Sundays," the Historical Society will be open on Sunday March 1 from 1-3 pm. We'll also be offering our usual tours of Greenfield Hall, and the Archives Center and Research Library next door in the Samuel Mickle House will be open for researchers by request. Free, but donations welcome.
The traveling exhibit will be available for viewing during Greenfield Hall's open hours (Monday, Wednesday and Friday from 1-4 pm) or by special appointment at another time. The exhibit will move on to its next destination on March 11.
Questions? Contact the Historical Society at [email protected] or 856-429-7375.