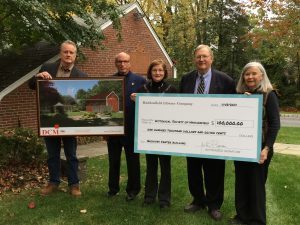 The Historical Society of Haddonfield launched the final phase of its capital campaign for a new archives building with an announcement that the 214-year-old private Haddonfield Library Company has given $100,000 for the new building.
To date, the Historical Society has raised more than $605,400 toward the new building, leaving it more than two-thirds of the way toward its fundraising goal of $900,000. The Society already has a significant restricted endowment that allows the Society to employ a professional archivist and covers other expenses of the archives center as well.
"We are so grateful for this show of support from the Haddonfield Library Company," said Carol W. Smith, President of the Historical Society of Haddonfield. "This gift brings together two venerable old institutions to jointly preserve the collective memory of our community."
"The Historical Society's planned new building will significantly improve preservation and access for the archival collections in its care, including the Library Company's own records dating back more than 200 years," said John Reisner, president of the Haddonfield Library Company. "We are delighted to be able to support this important project."
The Historical Society of Haddonfield was founded in 1914 and is committed to collecting and preserving the unique artifacts, documents, photographs, and other collection materials that help tell the history of Haddonfield and its environs in South Jersey.
The Haddonfield Library Company was founded in 1803 as a private subscription library. Though it transferred its books in 1909 to the newly formed public library, the Haddonfield Library Company remains a separate incorporated entity that aims "to extend the benefit of learning and to promote a spirit of literacy."