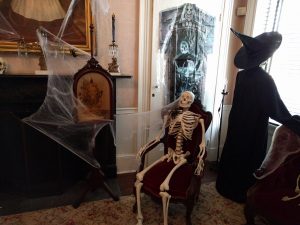 The Historical Society of Haddonfield's annual Haunted Mansion at Greenfield Hall will be held on October 30 right after the town Halloween parade, approximately at 7 pm and continuing to 9 pm.
The cost is $3 for kids and $5 for adults, and tickets will be sold at the door.
For those who haven't visited the Haunted Mansion before, we aim to make this event appropriate for elementary school aged kids, roughly second to fifth grades. We add seasonal decorations to the first floor of Greenfield Hall and offer lights-out spooky tours. Light refreshments are served in the back garden.
This year, we'll also be offering spooky story time in the back garden for younger visitors who aren't sure about taking the inside tour.
This year's event is sponsored by Lisa Wolschina and Associates from Keller Williams Realty and Jason Barnes from Citizens Bank.