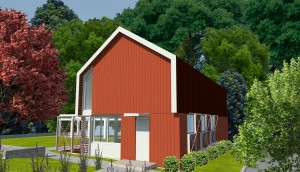 Haddonfield's Zoning Board of Adjustment has approved a proposal by the Historical Society of Haddonfield to build a new Archives Center on the site of an existing garage on the Society's property.
The new two-story building was designed by Haddonfield resident Eduardo Guzman of DCM Architecture and Engineering, and reinterprets an earlier barn that had stood on the site. The design had received acclaim from both the Historic Preservation Commission and the Planning Board.
The new building will provide much-needed space for the Society's archival holdings, which include correspondence, photographs, diaries, scrapbooks, maps, pamphlets, ephemera, privately published books, and more.
"Together, these materials are the collective memory of our town," said Society President Carol W. Smith. "The new Archives Center building will help us continue to preserve these important records for decades to come thanks to cutting-edge environmental controls, efficient storage space, and even room to grow."
The Archives Center is currently housed in the eighteenth-century Samuel Mickle House, the oldest frame structure in Camden County. Approximately half of the 725 linear feet of collection materials is now stored off-site.
The Historical Society will be undertaking a capital campaign in 2016 to make this new vision a reality. More details will be forthcoming.
Save